Bridges and implants are two ways to replace a missing tooth or teeth. Bridges are false teeth anchored in place by neighbouring teeth. The bridge consists of two crowns on the anchoring teeth along with the false tooth in the centre. Dental implants are artificial root forms used to support replacement teeth.
BRIDGES
Bridges are fixed, or non-removable, prosthesis constructed to replace one or more missing teeth.
The teeth on both sides of the existing space are used to attach the bridge to restore functionality and aesthetics. Materials used for this process are noble alloys, porcelain, or porcelain fused to metal.
Bridges are indicated whenever at least one tooth is missing. A bridge is composed of abutments and pontics. Abutments are the supports for the bridge and consist of crowns placed on the teeth surrounding the empty space. The pontics are special crowns that span across the empty space and connect to the abutments.
When teeth are prepared for a bridge, the abutments are prepared for crowns just as described in crowns. We will then take an impression of the prepared teeth, make a temporary bridge or crowns to place on the teeth to protect them and maintain their positions, and send the impression to a dental laboratory to fabricate the bridge. At your next visit with Monde Dental, we will try-in the bridge to ensure a good fit and then cement the bridge in place.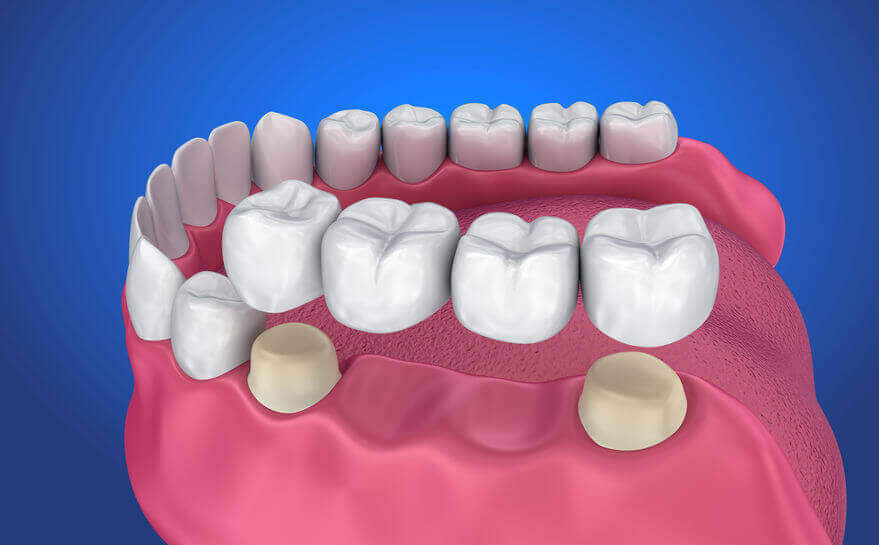 IMPLANTS
Implants are indicated whenever at least one tooth is missing. If the missing space is not filled, the teeth surrounding the space often drift, and the opposing teeth in the other arch will erupt further into the oral cavity (hypereruption) which can change your bite, lead to possible bone erosion in the area, and even affect your speech.
Implants are designed to replace the root of a missing tooth and can be used to support crowns, bridges, or dentures.
Implant supported dentures have gained popularity in recent years thanks to innovations in techniques and materials used for the procedure.
The root-form implant is the most common type and basically consists of three main components:
Implant screw – This part of the implant is made of titanium and is surgically placed in the bone. Titanium is accepted by the body extremely well and fuses with the bone (called osseointegration) during the healing process.
Abutment – This is a metal collar that attaches to the top of the implant screw and is the base for a crown, bridge, or denture.
Crown – The crown is the manufactured tooth that fits on top of the abutment. Bridges and dentures can also be secured to the abutment. The placement of the crown, bridge, or denture is the final step of the implant process.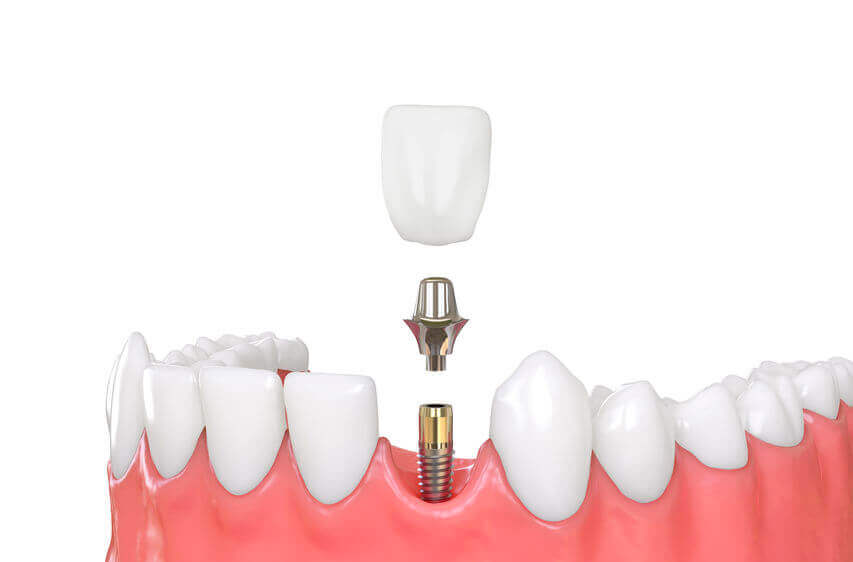 Here at Monde Dental in Toronto, we offer crown and implant services to our patients. If you have missing teeth, please call us at
416-551-7337 and book a consulatation with our dentist to discuss your options.